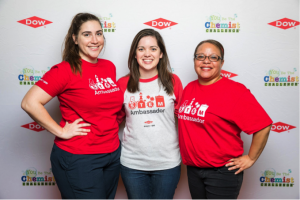 Bring You Be The Chemist to students and educators in your community!
Chemistry Professionals and Businesses
You Be The Chemist creates connections among students and volunteers from science and chemistry industries. Our programs are implemented in partnership with schools, education programs, and employers, so that activities align with local workforce and learning needs.
Educators and Schools
Whether teaching in a classroom or through informal educational settings like afterschool programs or museums, we have resources for you!
Attend an Essential Elements workshop, designed to increase educator confidence in providing hands-on science experiences. Find a workshop near you.
Download our Activity Guides for free  and help students' develop their abilities to engage in sustained scientific inquiry. Our sets of materials cover five content areas with teacher-facing Activity Guides, editable student-facing worksheets, and additional teacher-facing background information. Activities use common, inexpensive household items – no lab space required!
Students and Families
You Be The Chemist is about inspiring students from Kindergarten through the 8th grade (K-8) to experience the power of chemistry and science in everyday learning and life. If you are a student or an adult with interested students, here's how to participate:
Anyone can shop!