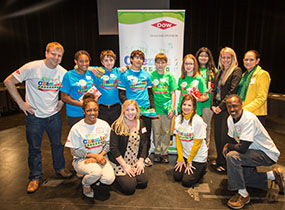 Our You Be The Chemist® programs focus on grade K-8 education in and outside of the classroom. These programs enhance STEM education and work to inspire the next generation of scientists, engineers, and chemical industry leaders. We provide a variety of opportunities for all generations to participate in our programs, both in your local community and nationwide!
Students and Parents
You've come to the right place for science resources that are fun for the whole family – and might even win you a trip to Philadelphia!
DO try this at home!
Our Activity Guides aren't just great classroom resources – they're fun to try at home, too! You can purchase all of the materials at your local supermarket or big-box store (you probably even have many of them on hand!) and it's a great way to engage kids on weekends, school breaks… or whenever!
Compete in chemistry!
Who will be the next National You Be The Chemist Challenge® Champion? All students in grades 5-8 are invited to participate in our exciting academic question-and-answer competition. Read more about how to participate in the Challenge.
Educators and Schools
All of our programs provide opportunities for K-8 educators to enhance science education in your classrooms and schools!
Hands-on lessons
We offer over 50 free lesson plans for K-8 educators to use as a resource in the classroom. Our Activity Guides are available online – you can download lesson plans, activity sheets, and more!
Professional development
You can learn more about our FREE professional development workshops, and fill out an inquiry form to bring a workshop to your school or school district!
Academic competition (grades 5-8)
Participating in the Challenge will get your students excited about chemistry! The Challenge program gives your students the opportunity to compete for national recognition and prizes. There is no cost for schools or students to participate. Learn more about the Challenge program.
Companies and Organizations
Your participation in our programs is vital to their existence! Supporting the You Be The Chemist® programs financially or through volunteerism is also a great way to forge ties between your company and the communities in which you operate.
Volunteer
We're always looking for volunteers who can:
Introduce our programs to local schools
Organize or assist with Local or State Challenges
Guide the development of our scientific content
Conduct our hands-on experiments in a classroom or after-school setting
Sponsor
In order for our programs to be free for parents, teachers, and schools, we seek corporate sponsors for:
Local, State, and National Challenge events
Essential Elements workshops
Activity Guide flash drive donations
We'd love to discuss sponsorship opportunities and benefits. You can contact us at comments@chemed.org or 571-482-3056.
Contribute
To learn more about investing in STEM education in your community through CEF, contact us at 571-482-3056 or at comments@chemed.org.