Advancements in the field of chemistry have arguably been some of the most important advancements throughout history. From the development of modern medicine to the creation of rubber, chemistry has played a vital role in shaping the world we live in today. 
There are many different careers in STEM, specifically chemistry — watch the video below of CEO & Owner at TRInternational, Inc. and former CEF Trustee, Megan Bohan, talking about her experiences.
With chemistry and science relating to so many aspects of everyday life, the possibilities for careers are endless! Here are some professionals we spoke with this year who love their careers in STEM:
Molly Borst, Senior Manager, Pearl River Site Affairs and External Engagement, Pfizer
I am a first generation college graduate. Working my way through school as a short order cook,  I attended Montclair State University in New Jersey for both my BS and MS in Geoscience.
I spent 11 years at BASF Corporation leading STEM Education for their North America Region, and I joined Pfizer's Site Affairs Team in March, supporting community and academic engagement as well supporting STEM education activities.
I am currently virtually attending Louisiana State University pursuing my MBA. I am also a proud mom to two young scientists, Conrad (6) and Charley Belle (3).
Aidan Blum, Senior Division Engineer, 3M
As a senior division engineer at 3M, I am a capital project manager. I work with all engineering disciplines across the company to develop a detailed plan to purchase, install, and startup new large scale process equipment like reactors, controllers, scrubbers, etc. I got into this field just out of school with my former employer, and have loved the role for its team building and constant learning ever since!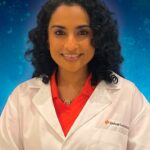 Lavanya Venkateswar, Head of Marketing and Technical Sales, Univar Solutions
I enjoy combining my technical expertise as a food scientist with business acumen as a brand manager, in order to connect the dots for our customers as they seek out food ingredient technology and new product innovation. We're in a unique position to be  a one-stop-shop for our customers' needs.
See our Career Connections Archive for more!
If YOU have a career in STEM, contact us to share your story!
Learn more about careers in STEM:
The American Chemical Society's Chemistry Careers page
STEM Jobs online
The Chemical Heritage Foundation's videos, including Scientists You Must Know and Women in Chemistry: