With chemistry relating to so many aspects of everyday life, the possibilities with careers in chemistry are endless! We contacted chemists and STEM professionals from a variety of industries to ask them why they love their jobs. Take a look at what these scientists have to say about chemistry at work.
Where can a career in chemistry take you?
COSMETIC & PERSONAL CARE CHEMISTRY
Amanda Lee, Formulation Chemist, Ross Organic Specialty Sales
What aspects of your job do you find most interesting? 
"I make products that we need every day! Can you imagine if we didn't have shampoos or body washes? I believe formulation chemistry embraces both science and art: not only do you need to understand the science behind how a product is made, but also the artistic medium a product can be to everyone."
MATERIALS CHEMISTRY 
David Frattarelli, Associate Research Scientist & Manager- Formulation Science, The Dow Chemical Company
Tell us about a cool project that you're working on.
"Going forward, I will be working with a global team to mitigate stinky clothes (e.g., shirts, pants, socks, shoes, bedding, etc.). We will be working to kill bugs (microbes) that cause these odors that unfortunately survive the washing machine."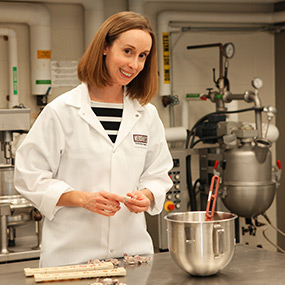 CANDY CHEMISTRY
Sarah Houle, Staff Scientist – Sweets & Refreshments Product Development, The Hershey Company
What is your favorite part about your job?
"Besides the free candy? Seriously though, I love that I get to combine my love of science and chemistry with food. My job is never dull and is constantly challenging me."
POLYMER CHEMISTRY
Tyrone Vaughn, Laboratory Technician, BASF Corporation
Why did you pursue a career in chemistry?
"As a child, I always had questions of why things worked the way they did. I also loved to perform 'experiments' with lotions, colognes, and baby powder. [My] interest continued to grow and that's when I decided to make this hobby into a career."
Do YOU have a career in chemistry? Contact us to share your story!
Want to learn more about careers in chemistry?
Advancements in the field of chemistry have arguably been some of the most important advancements throughout history. From the development of modern medicine to the creation of rubber, chemistry has played a vital role in shaping the world we live in today.
Learn about discoveries that changed our world, through The Chemical Heritage Foundation's videos, including Scientists You Must Know and Women in Chemistry:
Scientists You Must Know: Robert Gore from ChemHeritage on Vimeo.
Women in Chemistry: Lessons from Life and the Laboratory from ChemHeritage on Vimeo.
Interested in even more inspiring scientists? Visit the American Chemical Society's Chemistry Careers page, or learn more about STEM Jobs online.