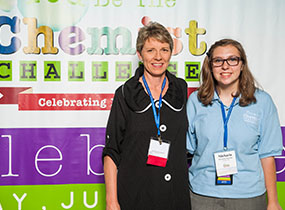 The Challenge provides opportunities for schools, educators, and grade 5-8 students to receive scholarships, national recognition, prizes, and more! There is no cost for a school to participate in the Challenge. Student participation in the Challenge begins with schools, where students take the Challenge Qualifier to identify who will move on to the next level of competition.
Please see our Important Dates and Rules, Structure, and Format pages for more information about school and student eligibility and participation.
Challenge content includes science concepts covered in many state assessments, such as:
the scientific method
properties of matter
chemical formulas & equations
chemistry in the human body
and much more!
The Challenge study materials can supplement classroom learning for meeting the Next Generation Science Standards (NGSS). Learn how each section of the study materials aligns to NGSS performance expectations:
New to the Challenge?
Educators who are new to the Challenge should complete the Educator Inquiry Form and review the Official Rules. If you have any immediate questions about how to get involved please contact us at challenge@chemed.org.
Participating Educators & Schools
We know that educators are busy people, so we keep school participation requirements simple! Please review the information below and take the following steps as a School Coordinator:
Refer to the Important Dates  for this year's timeline.
Read the Official Rules.
Register your school for the appropriate Challenge by January 12, 2018.

CEF encourages all grade 5-8 students at your school—entire classes or grade levels—to participate!
Registration for the 2017-2018 cycle will open in fall 2017.

Direct students to the free study materials. School Coordinators are encouraged, but not required, to cover this material with students. Concepts may already be covered in current curriculum. For more help with Challenge preparation, see our Suggested Additional Resources page.
After registering, the Local Challenge Organizer will provide you with dates & deadlines specific to your Challenge site and more information regarding the Challenge Qualifier.

The Challenge Qualifier is a multiple-choice test provided by CEF and administered by School Coordinators and/or Organizers to determine the students that will advance to the next level of competition.
The number of students who advance to each level of competition varies. This number is based on the student and school participation in a Local Challenge site or Challenge state. Your Local or State Challenge Organizer will be able to provide you with information regarding the number of students who will advance to the next level of competition.

Get excited for another amazing Challenge and school year! Thank for you participating in the Challenge and we encourage you to take the time to check out the other You Be The Chemist® programs!
Additional Resources for Participating Schools/Educators:
CEF provides the following resources for participating schools and educators:
Curious what it's like to be a Challenge participant?
Check out these sample questions from previous Challenges
Disclaimer: Please note that these sample questions are provided as a reference only and should not be altered or adjusted. These sample questions are not an indication of what will be seen in future Local, State, or National Challenge competitions, but are a small set of questions that have been previously used.
Please contact us at challenge@chemed.org if you would like a poster for your classroom!