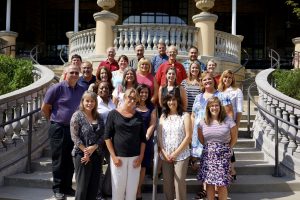 CEF has open recruitment for its You Be The Chemist Essential Elements℠ Certified Instructor cohort! We are seeking diverse, experienced educators who are enthusiastic about improving K-8 STEM education, teacher training, and promoting the You Be The Chemist programs. Certified Instructors receive comprehensive training in workshop facilitation, outreach and communications, and ways to share and implement the You Be The Chemist programs in their communities. Each Instructor is tasked with conducting teacher training workshops to impart science education best practices, hands-on learning activities, resources, and collaboration opportunities to local educators. Through training teachers, we hope to improve the quality of K-8 science education via increased hands-on learning, real-world and career connections, and inquiry-based instructional practices. Applications will be accepted on a rolling basis. Click here to download a flyer!
Position Description and Responsibilities
Please refer to the Certified Instructor Guidelines for a full list of responsibilities. Some items to note include:
Instructors must be available to attend cohort training either virtually or in-person to be determined upon acceptance.
Instructors must conduct at least four qualifying teacher training workshops in their communities. These responsibilities include all pre-workshop outreach and communications, facilitation of the workshops, and sending follow-up documentation to CEF after workshop completion. A qualifying workshop is at least one hour in length and follows the Essential Elements outline. Instructors are compensated at an hourly rate for their time. (These are minimum qualifications but, note that workshops run best if they are 2-3 hours in length and have 15-30 participants.)
Required Qualifications
Teaching experience (K-8 and science preferred); can be formal or informal
Passion for promoting hands-on K-8 science education
Robust organizational skills
Strong communication skills
Fluency in and/or ability to learn online communication tools (e.g. email, DropBox, Google Drive)
Self-starter and able to work independently
Collaborative, life-long learner
Preferred Qualifications
Adult education, facilitation, or teacher training experience
Interest or experience in creating and providing virtual or e-learning instruction
Connections and contacts in diverse, high-need, non-traditional educational communities
Experience with You Be The Chemist Challenge, Activity Guides, and/or Essential Elements programs
Knowledge or experience in NGSS, state specific standards, and inquiry-based or 5E instructional models
Connections to STEM-rich institutions (e.g. local museums, out-of-school programs, STEM ecosystems or industries, etc.)
While we are seeking candidates nationwide, we are specifically seeking candidates in Iowa, West Virginia, New Jersey, North Carolina, Cleveland, OH, Lehigh Valley, PA, and Boston, MA.