Check out some highlights from the 2015 National You Be The Chemist Challenge®!
We are excited to announce that Daniel Liu, a seventh-grader at Ottawa Hills Junior High School in Ottawa Hills, Ohio, is our 2015 National You Be The Chemist Challenge® Champion!
At 10 years old, Daniel is our youngest-ever National Champion. His quick thinking and impressive understanding of chemistry won him the title, but it was his infectious smile and on-stage victory fist pump that won the audience's hearts.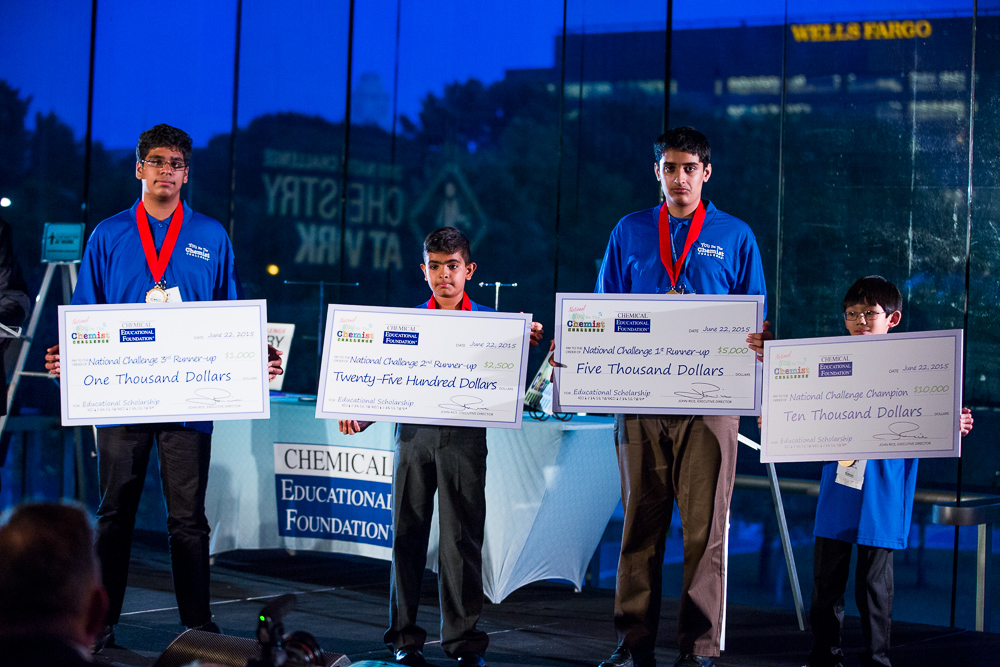 Our first, second, and third runners-up also wowed with their chemistry knowledge and ability to stay cool under pressure. Congratulations to Aum Upadhyay of Washington, Raghav Ramanujam of California, and Rafay Ashary of Texas! This year's top four were presented with scholarships for future educational use in the amounts of $10,000 (champion), $5,000 (first runner-up), $2,500 (second runner-up) and $1,000 (third runner-up). We can't wait to see where they go next!
The Biggest Challenge Ever…
Held on June 22, 2015, this year's Challenge event was our biggest ever, with over 350 industry members, educators, family members, and guests coming together in Philadelphia to celebrate our participants' hard work, and the value of a career in the sciences!
2015 National Challenge Sponsors
Generous sponsors make this event possible every year. Learn more about the 2015 National Challenge Sponsors.
Past National Challenges
Read all about previous National Challenges.