CEF's You Be The Chemist Essential Elements℠ program is a professional development workshop designed to provide K–8 educators—our "essential elements" in education—with methods for teaching chemistry concepts through hands-on learning and real-world connections.
Want to lead Essential Elements workshops in your community? Learn more about our Certified Instructor program here.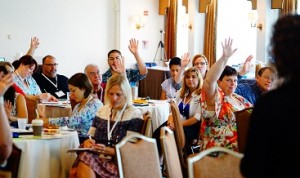 Essential Elements is based on the 5E learning cycle approach to teaching. This cycle allows students to build their own understanding of new concepts from both old ideas and their own experiences. Each part of the cycle describes a phase of learning: engage, explore, explain, elaborate, and evaluate. During an Essential Elements workshop, the instructor will lead educators through a full 5E learning cycle utilizing a lesson from the Activity Guides. Educators then get a chance to collaborate and plan their own 5E lesson from additional Activity Guide lessons.
Bring Essential Elements to Your Community
Frequently Asked Questions
Is there a cost associated with the workshop?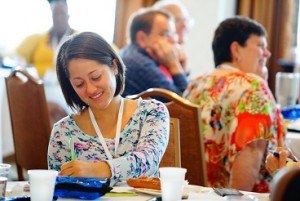 Workshops are of no cost to the educator or school district! Workshops are often sponsored by local industry.
Who conducts an Essential Elements workshop?
Workshops are conducted by either CEF staff or an Essential Elements Certified Instructor.
How long is an Essential Elements workshop?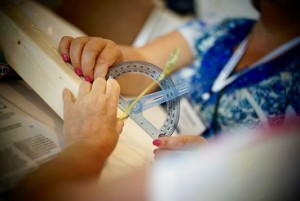 A workshop typically lasts two-to-three hours.
What kind of resources will I receive at an Essential Elements workshop?
All attending educators receive a Periodic Table poster, an Activity Guide flash drive (with 50+ hands-on science experiments and other resources), along with a CEF giveaway bag.
Is there an Essential Elements workshop happening near me?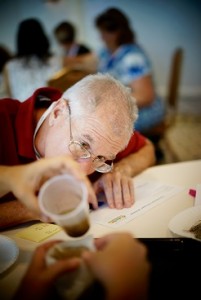 You can see a list of all upcoming workshops on our Workshops page.
Can I receive continuing education units/credits for attending an Essential Elements workshop?
This varies from state to state. For specific state inquires please send an email to essential.elements@chemed.org.
How many educators generally attend an Essential Elements workshop?
We aim for 20-30 educators.
I attended an Essential Elements workshop – where can I find links to the resources we used?
We have a new Educator Resources page!  If you have anything to add to this page please send us an email.
I have a totally different question!