CEF Officers
Rob Vallentine, President
Director, Corporate Citizenship, The Dow Chemical Company
President, The Dow Chemical Company Foundation, Midland, MI
Vallentine leads The Dow Chemical Company Foundation. Previously, he served as director of STEM Education for North America. He also managed a team that was responsible for public affairs strategies and programs at The Dow Chemical Company's 60 sites in North America, and served as Public Affairs director for Michigan Operations, responsible for strategic site communications, and media and community relations.
Maureen Paukert, APR, Vice President           
Director, Corporate Communications North America, BASF Corporation, Florham Park, NJ
Maureen directs site communications and community relations for BASF Corporation in North America. Her responsibilities, and the team she leads, span stakeholder relations across BASF's manufacturing platform of approximately 100 facilities in the region. This includes media relations; public relations / community relations; science education programming; and incident response / crisis communications. She also oversees BASF's charitable giving in the region as the secretary of the BASF Foundation USA.
Kurt Hettinga, Treasurer
President, Superior Solvents & Chemicals, Indianapolis, IN 
Hettinga joined Superior as a Sales Representative for Northern Indiana in 1996.  Since then, he has held positions as G.M. of Ohio, Regional Sales Manager, and VP of Sales.  He currently serves as President of this 100% employee-owned regional chemical products and services provider.
Eric Byer, Secretary
President, National Association of Chemical Distributors, Arlington, VA
Byer joined NACD in January 2014. As President, he works closely with the Board members and oversees the execution of their directives. Byer is involved in strategic planning and guiding the Association towards the goals established by its members.
CEF Trustees
Douglas Brown
President & CEO, Brown Chemical Co., Inc., Oakland, NJ
Brown became the President of Brown Chemical Co., Inc. in 1986 and has worked in the chemical industry for over 35 years. Additionally, Brown has been an active member of the National Association of Chemical Distributors (NACD) for over 20 years, where he has held various leadership roles. In 2012, Brown received the Lifetime Achievement Award from NACD.
Tom Corcoran
Senior Vice President, Brenntag North America, Inc., Reading, PA
Mr. Corcoran joined the Brenntag North America organization in September 2003 where he held many positions and became President of Brenntag Southwest, headquartered in Lancaster, TX. In 2013, Tom joined the North American Executive Council, and lead the strategic sourcing, focused industry and DEF business. In 2016, Tom was asked to assume a global role for the Brenntag Group, reporting to the CEO, and work closely with the four regional Chief Executives and other line management functions to coordinate the implementation of initiatives and provide Board level expertise in the areas of commercial excellence and efficiency.
William Fidler
Consultant, All In Advisors, LLC, Henderson, KY
Fidler joined Brenntag North America in August 1998 as the Executive Vice-President and served as President from 2006-2013. As a Member of the Management Board for Brenntag AG from 2013-2015, Fidler was responsible for Brenntag's North and Latin American operations. He began his career as a Purchasing Agent at Kerr Glass Company and then held several positions at Textile Chemical Co. Fidler previously served as a member of the NACD Board of Directors and past Chairperson for Leadership Giving of the United Way of Henderson.
Calvin Emanuel, PhD
Senior Account Manager, HODer N. America, Shell Chemical LP, Houston, TX
Terry Hill
President, Apex Distribution Consulting, Redmond, WA
Hill began his career with Univar in 1985 and held a variety of sales and management positions during his tenure with the company, including President of Univar USA and Executive Vice President – Industry Relations. He recently founded Apex Distribution Consulting and serves as its President. Hill is a member of the American Chemical Society.
David Jukes
President & COO, Univar, Downers Grove, IL
Mr. Jukes joined Univar in 2002 and has served as Executive Vice President and President of Univar USA since June 2016, and President of Latin America (LATAM) since September 2015. From 2011 to 2016, Mr. Jukes served as President of Univar EMEA. From July 2009 to January 2011 he served as Vice President, Sales and Marketing EMEA, and from April 2004 to June 2009 as Regional Director of Univar UK, Ireland, the Nordics and Distrupol. Prior to joining Univar, Mr. Jukes was Senior Vice President of Global Sales, Marketing and Industry Relations, for Omnexus, a plastics industry consortium e-commerce platform and Vice President Business Development for Ellis & Everard Plc. Mr. Jukes is a graduate of the London Business School.
F. Barry Lawrence, PhD
Leonard and Valerie Bruce Chair Professor in Industrial Distribution, Program Coordinator, Industrial Distribution Program, Director, Global Supply Chain Laboratory, Director, Thomas and Joan Read Center for Distribution Research and Education, Texas A&M University, College Station, TX
As a faculty member of the Industrial Distribution Program, Dr. Lawrence is involved in graduate, undergraduate, and professional continuing education teaching activities, funded research projects, publications and industry presentations. His teaching activities surround classes in manufacturer/distributor relationships, Supply Chain Management, distributor profitability, and distribution strategy. Dr. Lawrence is a fellow of the National Association of Wholesaler Distributors (NAW) institute and the author of five books on distributor competitiveness.  Dr. Lawrence holds a Ph.D. in Information and Operations Management from Texas A&M University, an M.B.A. from Texas State University and a B.B.A .in Finance from University of Texas at Austin. He has more than 10 years of industry experience in sales and retail business before joining Texas A&M.
Robert Moser, Jr.           
Senior Vice President of Global Accounts, Brenntag North America, Inc., Reading, PA
Moser first joined Brenntag in 1978 in Pittsburgh, PA. He served in a variety of positions including commercial management, supplier development and procurement, and regional management before taking on his current role as Brenntag's Senior Vice President of Global Accounts. Moser also acts as Brenntag's Director of Government Affairs for North America. Moser received a BS in Biology from the University of Connecticut and an MBA from the Katz School of Business at the University of Pittsburgh. He also graduated with advanced training in International Leadership from Ashridge College in the U.K.
Greg Roop
Director, Corporate Compliance, Horn
Roop has worked for Horn (formerly E.T. Horn) for the past ten years.  Roop has regulatory, quality and human resources oversight responsibility for all eight of Horn's divisions.  Prior to Horn, he spent six years with Firmenich in a global sourcing role. Roop's background is in pharma, fragrance and flavor manufacturing, and his strengths include international strategic sourcing and domestic regulatory programs.  Roop graduated with a B.A. in Business and a minor in International Business from California State, Fullerton.  He has served as a volunteer for CEF's You Be The Chemist Challenge® program since 2007.
Paul Russo
Professor of Materials Science & Engineering and Chemistry, Georgia Institute of Technology, Atlanta, GA
After earning his Ph.D. in Chemistry in 1981 and serving a two-year postdoctoral appointment at the University of Massachusetts, Russo began his career at Louisiana State University. As the Land Grant (and Sea Grant) university of Louisiana, and one of the most diverse institutions in the United States, LSU is well situated to prepare a wide spectrum of students for careers in all disciplines, including Chemistry and Chemical Engineering. In 2013, Russo joined the Materials Science & Engineering and the Chemistry departments at the Georgia Institute of Technology, where he currently serves as a professor.
Bruce Schechinger
President & Owner, BHS Marketing LLC, Salt Lake City, UT
Schechinger began his career with Stauffer Chemical in 1979 as a Sales Representative. He continued his career with Texasgulf and the LCI Chemicals in various sales and marketing positions. In 1998, Schechinger purchased REP Chemical and established BHS Marketing LLC (independent), a full line distributor with sales throughout North America and also into international markets.
Tracy Temple
Vice President, Sales & Marketing, PVS-Nolwood Chemicals, Inc.
Temple was born and raised in Kenton, Ohio where he incorporated his first business, Temple Enterprises LLC, at the age of 14, managing commercial, industrial, and residential properties throughout Hardin County. He received a BS in Business Administration with a minor in marketing from Ohio Northern University, and joined PVS Nolwood Chemicals, Inc. in 2003 as a sales representative covering Central and West Central Ohio. He was later promoted to the position of Ohio and Indiana Sales Manager. In 2010, Temple received an MBA from Ohio State University. Since January 2013, he has been responsible for all of PVS-Nolwood's sales and marketing efforts. Temple is a member of the Michigan Chemistry Council, where he is also a member of the Board of Directors.
Bart Whitaker III
President & CEO, Whitaker Oil Company, Atlanta, GA
Whitaker began working at Whitaker Oil Company in 1975 and has held numerous positions within the company, ranging from loading and driving trucks to managing operations and sales territories. Whitaker has been President of Whitaker Oil Company since 1986.
Education Committee
This group applies their education and science backgrounds in overseeing the educational aspects of CEF's programs.
Dr. Ann Abraham
Kent State University
Ms. Theresa Comilla
Grosse Pointe Public Schools
Dr. Mike Davis
Truman College
Ms. Michele Flores
Deer Isle Stonington Elementary School
Dr. Brenda Nixon
Louisiana State University
Ms. Nancy Olenchek
The McCallie School
Dr. Paul Russo
Georgia Institute of Technology
Mr. Steven Scappaticci
Cranston Public Schools
Dr. Larry Sernyk
YBTC Coordinator and Certified Instructor
Ms. Janice Trainer
Christina School District
You Be The Chemist Challenge® Organizer Committee
A group of educators and industry professionals who represent over 100 other Challenge Organizers in guiding You Be The Chemist Challenge® activities and program development.
Ms. Molly Borst
Science Education Specialist, BASF Corporation
Ms. Barbara Ferri
8th Grade Earth Science Teacher, John Glenn Middle School
Ms. Michelle Gilles
Marketing and Sales, The Dow Chemical Company
Ms. Kim Keith
Office Manager, Brenntag North America, Inc.
Mr. Douglas A. Nafis
Senior Development Specialist, UOP, LLC/A Honeywell Company
Mr. Bryan Page 
Key Account Executive, Brenntag North America, Inc.
Mr. Greg Roop
Director, Corporate Compliance, Horn

Funding & Investment Committee
An experienced team of high-level industry executives who guide the Foundation in its current fundraising and investment activities and explore new funding opportunities.
Mr. Kurt Hettinga
President, Superior Solvents & Chemicals
Mr. Stephen J. Cornwall
East Coast Sales Director, ICL Performance Products LP
Mr. William A. Fidler
Member of the Management Board, Brenntag AG
Mr. Terry Hill
President, APEX Distribution Consulting
Mr. Robert Moser
Senior VP-Global Accounts; Director of Global Affairs, Brenntag AG
Mr. Bruce H. Schechinger
President/CEO, BHS Marketing LLC
Mr. Robert Vallentine
Director, Corporate Citizenship, The Dow Chemical Company & President, The Dow Chemical Compnay Foundation
Ms. Lisa Vienna
Senior Director, Finance & Business Management, National Association of Chemical Distributors
Mr. Bart Whitaker III
President/CEO, Whitaker Oil Company
Content Development Team
A volunteer group of professional scientists, educators, and industry members who review CEF's program content to ensure that it is accurate, educationally effective, and accessible for students.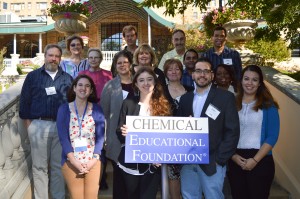 Dr. Elvin Alemán
Associate Professor, Department of Chemistry, California State University, Stanislaus
Dr. Lauren Amable
Staff Scientist, National Institutes of Health
Ms. Kathy Biernat
Science Teacher, St. Mary's Visitation School
Mr. Aidan Blum
Project Engineer, PVS Chemicals, Inc.
Ms. Rosalie Bordett
Student, University of Connecticut
Dr. Christina Boville
Postdoctoral Scholar, Resnick Institute, Caltech
Dr. Angela Carraway
Chemistry Instructor, Meridian Community College
Dr. Michael Danahy
Lecturer, Department of Chemistry, Bowdoin College
Mr. Mike Davis
Professor of Chemistry & Education, Truman College
Dr. Dilip Dias
Senior Scientist, BD Technologies
Ms. Rachael Gardner
Teacher, Sioux City Community Schools
Dr. Marcia Gillette
Senior Lecturer in Chemistry, Indiana University Kokomo
Mr. Chuck Wheeler Handlon
Adjunct Professor, Winona State University
Dr. Thomas Holme
Professor, Chemistry Department, Iowa State University
Mr. Steven L. Jacobs
Chief Scientist, Faraday Studios
Dr. Kimberly Jacoby Morris
Postdoctoral Fellow, National Institutes of Health
Ms. Kathleen Koziski
Retired Chemist, The Dow Chemical Company
Dr. Georgina Little
Instructor of Chemistry, Department of Chemistry & Physics, Southeastern Louisiana University
Dr. Renee Love
Teacher, Atlanta Public Schools
Dr. Ajay Mallia
Assistant Professor of Chemistry, School of Science and Technology, Georgia Gwinnett College
Dr. Johanna Mazlo
Adjunct Assistant Professor, Chemistry & Biochemistry, The University of North Carolina at Greensboro
Dr. Steve Miller
High School Chemistry Teacher, Pines School
Ms. Ronni Moore
Lead Instructor, The Excel Center-Meadows
Dr. Richard Myers
Director, Kemin Industries
Mr. Douglas A. Nafis
Senior Development Specialist, UOP, LLC/A Honeywell Company
Dr. Brittany Pequegnat
Postdoctoral Research Fellow, Brigham and Women's Hospital and Harvard Medical School
Dr. Rosalynn Quiñones-Fernández
Assistant Professor, Department of Chemistry, Marshall University
Dr. John Rakus
Assistant Professor, Department of Chemistry, Marshall University
Mr. Sean Reid
AP Chemistry Teacher, Walt Whitman High School
Dr. Paul Russo
Professor of Materials Science and Engineering, Georgia Institute of Technology
Dr. Thomas Sommerfeld
Associate Professor, Southeastern Louisiana University
Dr. Roxanne Spencer
Chemistry Teacher, Princeton International School of Mathematics and Science
Mr. Shawn Sutton
Science Teacher, Long Valley Middle School
Dr. Yiftah Tal-Gan
Assistant Professor, Department of Chemistry, University of Nevada, Reno
Dr. Quan Yuan
Scientific Editor/Study Abroad Consultant, Bridge Bright Future Consulting LLC
Dr. Xujun Zhang
Graduate, Georgia Institute of Technology