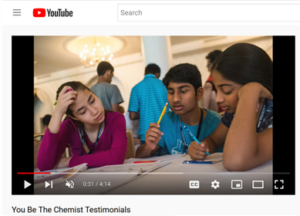 Registration to compete in the 2022-2023 You Be The Chemist Challenge cycle will open in October, and watch our new video on the right to see why past Challenge participants found it such a valuable and enriching experience!
For the 2022 Challenge, nine thousand students from 300 schools competed in the 2022 Regional You Be The Chemist Challenge®. The top five teams of students from Illinois, Michigan, Massachusetts, New Jersey, and Washington will compete for scholarships at the National You Be The Chemist Challenge® on June 6 at The Westin Houston, Memorial City in Houston, Texas.
During the National Challenge, each team will participate in a Q&A session on stage with a panel of judges. The questions will encompass the research the students performed in the making of their 3-5-minute videos on states of matter in space.
The competition is open to the public, and we are looking forward to a strong turnout to support the students!
See registration information below:
June 6, 2022
The Westin Houston Memorial City
945 Gessner Rd.
Houston, Texas 77024

9:00 am – 12:00 pm CT: National You Be The Chemist Challenge Competition
Register here
5:00 – 6:00 pm CT: Industry Appreciation Reception
(Invitation only)
6:00 – 8:00 pm CT: National You Be The Chemist Challenge Awards Dinner
(Invitation only)
For more information, contact comments@chemed.org.
Thank You 2022 Challenge Presenting Sponsor!
To see a full list of Challenge sponsors here.
Health Protocols
The meeting space we selected has ample space for social distancing. The hotel also has enhanced cleaning protocols in place to provide a safer environment for their guests and associates.
Here is additional information on Marriott's COVID policies (cleaning, masks, vaccinations, etc.) – What to Expect in the Age of COVID-19 | The Westin Houston, Memorial City (marriott.com)