Building confident science educators in grades K-8 helps prepare students for ongoing study and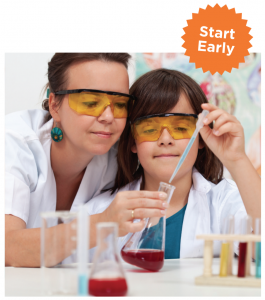 STEM careers.
Yet unfortunately, too few educators have the confidence – and the supplies – they need to teach engaging science content.
Just 39% of elementary school educators feel very well prepared to teach science. And just 61% of 4th graders have schools that provide supplies or equipment for science labs.
There is a need right now to provide instructional information and materials for science education.
You Be The Chemist Essential Elements workshops engage educators to build their confidence in teaching hands-on science using common, inexpensive items as designed in our Activity Guides.
After attending a workshop, participating educators reported an 84% confidence level in their ability to
teach science in the classroom — compared with only 48% indicating that amount of confidence prior to attending a workshop.
Hosting workshops to
build educator confidence

Making 50 hands-on science
activities accessible in any setting